Type:
Manga
Volumes:
18
Chapters:
166
Status:
Finished
Published:
Mar 3, 2004 to Sep 19, 2007
Genres:
Comedy, Drama, Ecchi, Romance, School, Sports
Authors:
Seo
, Kouji (Story & Art)
"If you stand still nothing changes.... but... if you take even a step forward....I have a feeling something will change, and something good will happen!"
Synopsis
Yamato is ready for a fresh start. So when his aunt invites him to stay rent-free in her big-city boarding house in hustling, bustling Tokyo, Yamato jumps at the chance. There's just one teensy-weensy catch: It's an all-girl housing complex and spa! Things get even more nerve-racking when Yamato meets his neighbor Suzuka, a beautiful track-and-field star. She's not just the cutest girl Yamato's ever met, she's also the coolest, the smartest, and the most intimidating. Can an ordinary guy like Yamato ever hope to win over a girl like Suzuka?
My Review
Writer tells us a simple story about a guy coming into Tokyo to live , study and of course finding love is added to just because it's an romance story ... Not long the manga starts we are thrown into "Boy Meets girl" event where he notices a beautiful girl and well is captivated by her Yes it just how it goes in such mangas.Simple events from the get go it was not the case i guess because later things get complicated being introduced to other characters cause this simpleness fade into many turns which at times could be annoying but later gets figured out somehow.
Manga goes as far as 100+ chapters which tell it from high school to i guess adulthood ? BUt in many different ways that you can look at it ... it still has only one ending to it, and it is quite well seen from the first chapters of the manga Even if the girl is being persistent the guy is dumb he will try his best to get her which will lead to that one ending which seems most fit but i wonder.
After many events and many rejections it goes into an interesting stage where even parents come in and making heavy decisions are what children need to do getting approved is something they must do i guess hard life is still hard but even before that there were many intriguing moments like cat fights and those feelings that get approved of and those feelings of getting rejected in the end ... They always hurt i guess.
Without talking about life of our characters you can also see a lot of sport going on in manga which actually is pretty good aspect giving this manga more than just romance. In manga we see how each characters Will to do sports change from good to bad and from bad to good trying their best wanting to be better than others and competitions with those rivals that in the end become someone to Look up to as old friends oh i loved this side of the manga.
First Meeting
Our main protagonist comes back to Tokyo after years had passed and on the way to his new home he sees a beautiful girl doing her morning practice which captivates him at first glance but he is yet to know how hard it will be to capture her... but hey it goes always like that we fall in love we try hard some of us give up some of us goes till the end no matter what kind of future awaits.
Persistence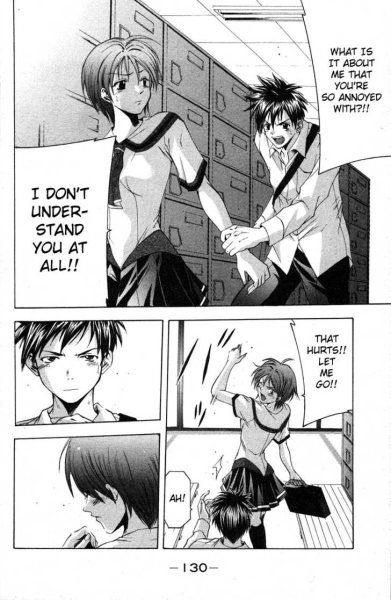 WEll persistence is indeed one of those that are called "love can overcome anything" types without even giving up no matter the situation so it kind of made me cheer for him but also at some point i started to hate him too just because of the route he tried to go Hiding and running from reality those weren't the choices here so writer just tried to spice the manga up as I read mangas from
Seo
, Kouji most of the time the characters he create in his stories have this strong persistence which seems could win against anything but without that they all have same wavering feelings.
Last Step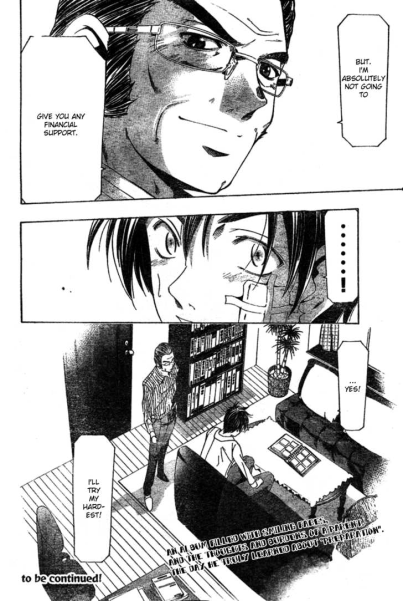 Being accepted is the hardest thing to do why ? Because you made a mistake that could ruin the ones you love future ... no its not because you could ruin her future its more because there are also people who are expecting quite a lot from that person but still what is shown as mistake in this manga for me is something beautiful and yes i am still yet to experience that And well i guess this as i called "Last Step" Was the MOST intriguing stage of the manga ... being scared of the future , having courage , loving , moving forward and accepting something while knowing that you sacrifice everything that others gave you... Here feelings start to overflow.
Art [8/10]
Seo
, Kouji Art is quite nice all of the characters are drawn nicely whole atmosphere and every background felt right even in other of his works it is good Captivated me from first pages and let me go at the last of them.
Overall [8/10]
We started out with boy meets girl and went on a roller-coaster ... meeting new friends , choosing things to do in life , pursuing romance and meeting dramatic events just to end it where it should end perfect? not really Good? Yes indeed it was delivered and i got the message Romance was overflowing drama made me tremble nothing more nothing less. My sincere thoughts ? The mange was written quite well it wasn't dragged on to long events were untangled one after another making place for more and without leaving regrets i guess ? As far as Manga can go it showed enough book is a book and what is written can't be re-written because there will always be only one 1st story.So giving this manga 8 was quite good i guess because for me there were some things here and there missing but it may be that i am just to picky.